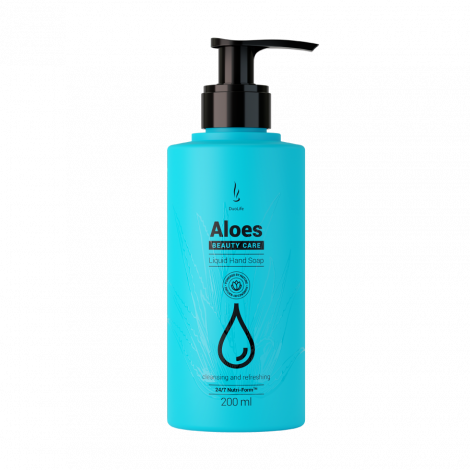 DuoLife Beauty Care Aloes Liquid Hand Soap is a unique product with the properties of a lotion. It is characterized by cleansing and refreshing properties, but also provides intensive care. A unique mixture of pre-, pro- and postbiotics strengthens the skin microbiome and its immune barrier. Moreover, DuoLife Beauty Care Aloes Liquid Hand Soap contains as much as 15% of natural sunflower oil rich in essential fatty acids and vitamin E, referred to as the vitamin of youth, with which it nourishes the skin and helps to increase its elasticity, eliminating the feeling of roughness and reducing chapping.
DuoLife Beauty Care Aloes Liquid Hand Soap is the perfect complement to the DuoLife Aloe dietary supplement. By combining the advantages of a liquid formula with unique properties, shower gel, and now also shampoo and soap, you will comprehensively take care of your health and proper skin condition.
---
Formula 24/7™, developed under the supervision of experts, draws on the beneficial properties of active substances to cleanse, refresh and moisturize the skin. 
94.6% natural product.
Pro Complex
It fully cares for the skin of the hands, thanks to the unique composition of the active serum with pre-, pro- and postbiotics.
Earth Marine Water
Deep sea water rich in useful minerals.
3 Steps Conditioning
3-stage conditioning process:
1. RESTORES THE MICROBIOME AND STIMULATES THE SKIN IMMUNITY - probiotics, i.e. living organisms, making up and contributing to the skin microbiome, present in the product in the form of Lactobacillus cells..
2. A DOSE OF GOOD FLORA - through prebiotics, i.e. substances that can be used by beneficial bacteria for which they are a medium. In addition to affecting the microbiome, prebiotics also moisturize and protect the skin.
3. SOOTHING, CALMING, REGENERATION - postbiotics, i.e. substances that these positive microorganisms (probiotics) produce, contributing to a protective effect on the skin. These are amino acids, B vitamins, antioxidants, organic acids (including lactic acid).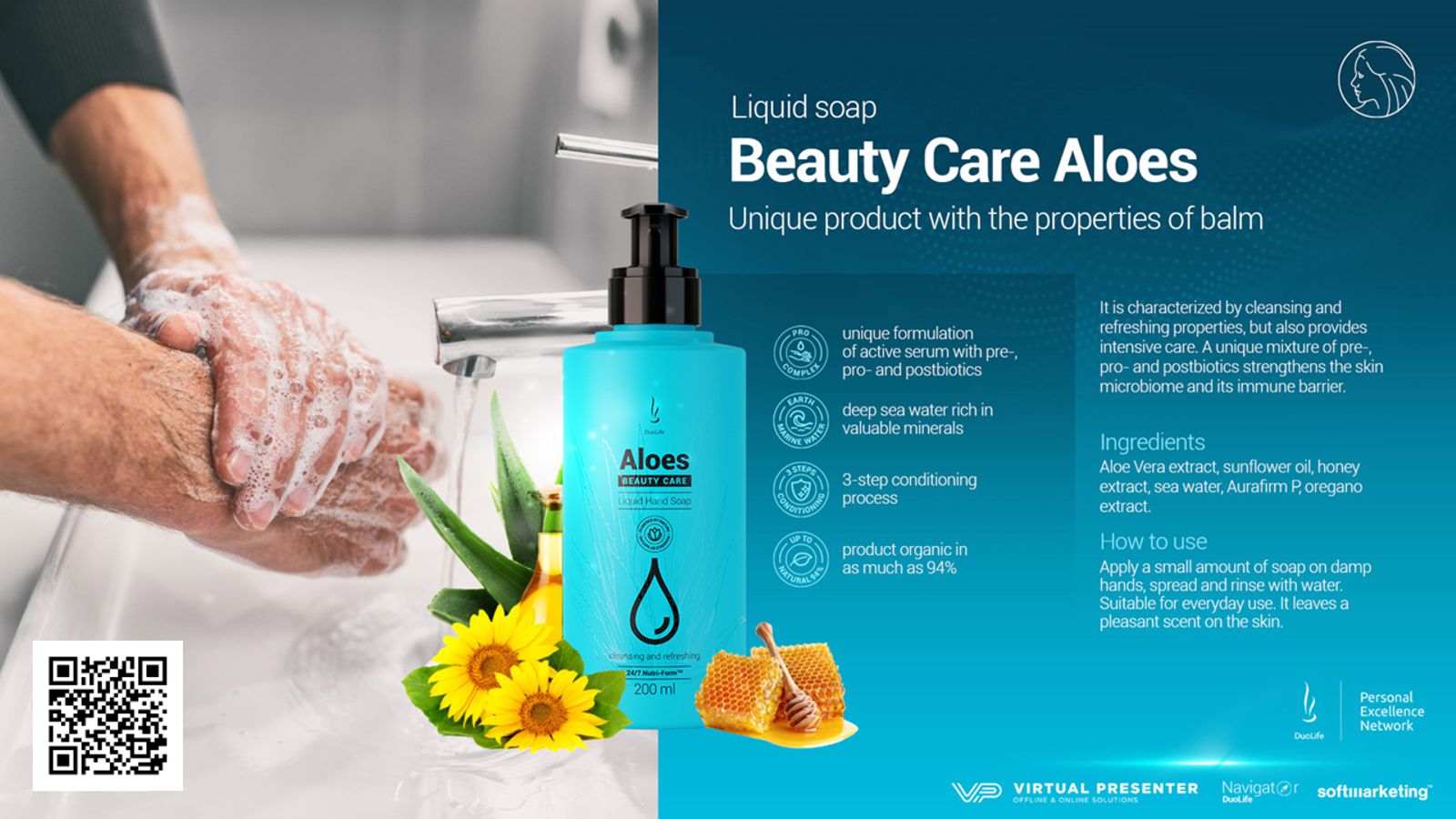 ---
Aloe extract
has an intensive moisturizing effect; Improves the skin's condition; Has a soothing, tightening and protective effect;  Soothes irritations.
Sunflower oil
improves skin elasticity; eliminates skin roughness and chapping; the high content of sunflower oil (15%) in the product prevents it from foaming like traditional cosmetic products.
Honey extract
perfectly moisturizes and soothes irritated skin.
Oregano extract
has strong bactericidal properties; supports anti-inflammatory and anti-fungal properties, prevents skin aging.
Aurafirm P
Natural oat ferment containing pre-, pro- and postbiotics that protect the skin against external factors, microorganisms and pathogens, and strengthening its natural microbiome.
The product also uses sea water from the French Atlantic coast with a high content of minerals, guaranteeing effective hydration, strengthening and detoxification. Importantly, it is a substance that protects against all external factors, including contamination (including cigarette smoke or exhaust fumes).
Composition: Aqua/Water, Helianthus Annus (Sunflower) Seed Oil, Sodium Lauroyl Sarcosinate, Glycerin, Cocamidopropyl Betaine, Gluconolactone, Guar Hydroxypropyltrimonium Chloride, Sea Water, Lactobacillus Ferment, Avena Sativa (Oat) Kernel Extract, Tocopherol, Aloe Barbadensis Leaf Extract, Honey Extract, Origanum Vulgare Extract, Sodium Benzoate, Citric Acid, Sodium Phytate, Potassium Sorbate, Parfum/Fragrance. 
---